Posted by Martin Pengelly in New York Saturday 2 August 2014 14.00 BST theguardian.com
If it is "common knowledge" that rugby is the father of American football, as some claim, in the US the game can nonetheless seem more like an eager but overlooked child, jumping up and down at the back of the schoolroom, eager for rare and fleeting recognition. This week, however, rugby received a tribute straight from the top of the class.
The head coach of the Super Bowl-champion Seattle Seahawks, Pete Carroll, narrates a training video in which he explains his team's approach to tackling and its relevance to concerns about safety in football:
"How we teach this system of tackling was recently inspired by those who play rugby around the world. Rugby players have taken the head out of the game and truly exemplified shoulder tackling. You'll see several clips of rugby tackling throughout the film."
And you will … the All Blacks captain Richie McCaw is driven back by an Argentinian, England's Toby Flood is flattened by the French defence and the Ireland prop Cian Healy appears on both ends of the equation, smithereening an Australian before being smithereened by a New Zealander. It's all legal and, relatively speaking, safe.
Given that concussion and other traumatic injuries are a major and growing concern in rugby, Carroll's contention that rugby has "taken the head out of the game" may provoke debate. It may also provoke comment that in rugby the head was never in the game, in the sense of it being used as an offensive weapon, and that the notion that the tackling techniques Carroll is espousing are anything new is, to a rugby eye, rather quaint.
But the film does illustrate, in the quintessentially forensic and fascinating detail of American professional sports, the six approaches to tackling – the Seahawks call them the Hawk tackle, the Hawk roll tackle, the profile tackle, strike zone, tracking and the compression tackle – through which Carroll says his coaches aim to "maintain the physical integrity" of football "while developing safer tackling techniques". Game film, of tackles made by such feared members of the "Legion of Boom" as the cornerback Richard Sherman, is spliced with training footage and clips from recent rugby internationals and club or provincial fixtures.
Carroll's emphasis is on "shoulder-leverage" tackling – to rugby fans, placing the head correctly, wrapping the onrushing player with both arms and driving through the hit with shoulder and legs. In Seahawks-ese, which nonetheless sounds familiar to anyone raised by nasty rugby coaches on nasty training fields anywhere, it means "eyes through the thighs, wrap and squeeze, [and] drive for five when necessary".
As the Seahawks defensive passing game coordinator, Rocky Seto, says while supervising the filmed training drills:
"Notice we're not using helmets and we will still be able to bring this guy down."
Again, to a rugby fan, and to employ an in-the-circumstances-slightly-unfortunate phrase, this is a no-brainer. But in football, use of the helmet is a burning issue – this week the NCAA, college football's governing authority, agreed a $70m settlement over a concussion-related lawsuit; the NFL's deal with former players could cost it $875m.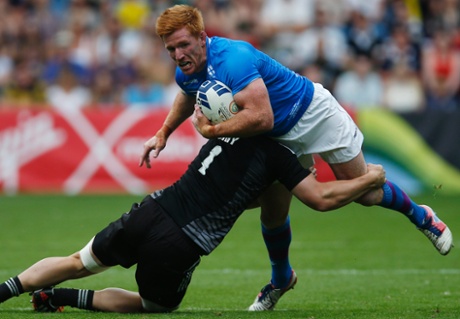 Carroll, evidently converted and basking in the approval of the all-powerful NFL commissioner, Roger Goodell, says the Seahawks coaches have "found our style to be successful in NFL and college and we believe it can be employed at all levels". He adds: "We are passionate about teaching this kind of tackling."
And in his mention of "passion" lies, for rugby fans, an extremely interesting thing. Seattle is also home to Serevi Rugby, an independent company aiming to drive the expansion of the game in North America. And Serevi – founded by local investor Chris Prentice and the Fijian sevens great Waisale Serevi, among others, and run by a former Rugby World Cup general manager, Ross Young – has become very friendly with the Seahawks.
Training-ground visits, by Serevi, All Blacks Sevens coach and adviser Sir Gordon Tietjens and others, have been going on for some years. Ideas have been swapped and rugby coaches have, indeed, helped the Seahawks work on their tackling.
On Friday, after another such visit, Young told the Guardian: "It's an exciting opportunity for us to grow awareness of the sport of rugby through working with the coaches at the Seahawks.
"The relationship Waisale has built with Coach Carroll and Coach Seto is one we believe can benefit both organisations to provide a safer, effective way to tackle on the football field, while opening up the sport of rugby to football players of all ages who want to learn our tackling techniques, stay in shape in their offseason, or have a chance to apply their athletic skills go to college or even play in the Olympics someday.
"We're not here to compete against football – this is a great example of how the two sports can work together."
Things seem to happen in Seattle, particularly in sports not usually associated with the US. In July, more than 64,000 people showed up to watch the Sounders play soccer. Less startlingly but more intriguingly to rugby fans, in June Seattle-Old Puget Sound Beach, a leading US rugby club, changed its name to Seattle Saracens. On Wednesday two London-based Saracens, the England and Lions fly-half Owen Farrell and the Springbok scrum-half Neil de Kock, were in the city to develop the relationship.
To rugby fans, players and coaches from other nations, aware of America's longstanding status as a slumbering giant, the Seahawks' championing of rugby tackling might not be sufficient reason to become sleepless over Seattle. But they might still be advised to take a careful look north by north-west.

 Posted by Martin Pengelly in New York Saturday 2 August 2014 14.00 BST theguardian.com