The recruitment strategies of some clubs may seem like a case of sticking pins in a board while blindfolded but the reality is that the processes behind player acquisition in modern football are exhaustive.
Technical scouting now plays an important role in that decision-making process as biographical profiles, statistical analysis and video evidence are all factored in before a deal is close to being signed off.
Rob Mackenzie's role at Leicester has seen him use data to help pinpoint potential signings that went on to play a part in the team's push for the Premier League. "In January we identified that we wanted to bring in a wide player," he tells Sky Sports.
"Maybe one who wouldn't necessarily need to hit the ground running but someone who could challenge the guys we already had. So we went and looked around the second-tier options in reputable leagues like Spain, France and Germany as well as our own leagues.
"We also looked at the top divisions in places like Switzerland. We wanted someone whose contract was expiring in the summer because we thought there might be an opportunity to get them out for a smaller fee and we'd have more bargaining power. We were looking for an outstanding player in that league aged between 20 and 22.
"So we did all the statistical profiling and came up with five players. Of the five, we came up with three that were really interesting who we wanted to go and watch. We then had a period of going to watch those three and then decided on the one we wanted to buy.
"Fortunately, after the process, we were able to sign Riyad Mahrez from Le Havre. He then went to the World Cup with Algeria. He's an example of a statistical process that resulted in a player." Mahrez has had an impact too – wowing fans with a wonder goal against Blackpool and settling in well.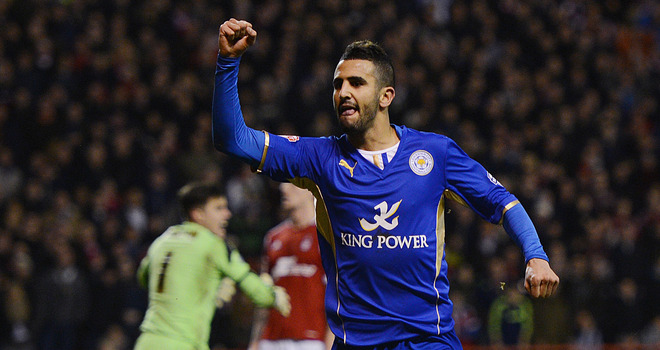 Of course, sometimes a signing can come from closer to home and that's what happened with the summer purchase of Marc Albrighton from Aston Villa. "He's a player we've monitored for a number of years now," adds Mackenzie. "We have a number of staff who are Birmingham-based and have been aware of him since he was a kid."
Despite Albrighton being a known quantity, the same scouting principles apply and there has been some sound statistical logic behind the purchase. "Every year we go through the process of looking at the players who will be out of contract the following season. Then we go about our analysis and profiling to see whether those players could help us with what we're about.
"Marc Albrighton was one of those players who when we looked at him statistically we thought could do that. At the moment, we have wide players who like to come in off the line so we wanted someone who could complement that and be a bit more direct and positive in attacking the line.
"If you look at the stats of players who played more than 10 games in the Premier League last season, only five players created more chances per minute than Marc Albrighton (David Silva, Willian, Samir Nasri, Juan Mata & Mesut Ozil). He also delivered more crosses per minute than any other player who started a Premier League game. Insights like that were important for us because although he didn't play all the time for Aston Villa, using the stats and profiling we were able to say that when he did actually play he'd been very effective.
"That coupled with the fact that his contract was coming to an end and he maybe hadn't had an extended run in the side made him realistic. When we looked at it further with video analysis and going to see him live, things like his work rate became apparent too and that's very important to us.
"Here's a guy who is still on an upward curve in his career and he ticks the biographical profile, the potential availability profile and in terms of statistical performance he's different to what we have." Signing a player. There's a bit more to it than you might think.
Source: http://www1.skysports.com/football/news/11662/9427945/the-science-of-scouting-signings